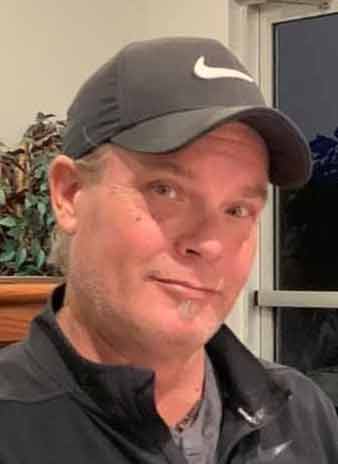 Kirby Schmitz
1970 - 2022
Kirby James Schmitz, beloved husband of Sherry Schmitz, passed away unexpectedly in Taber on Sunday, July 10, 2022 at the age of 52 years.
The service was held at the Taber Golf Club, 4909 - 44 Street, Taber on Friday, July 15, 2022 at 5:00 P.M.
It is quite fitting that a memorial for Kirby among his family and friends is being held at the Taber Golf Club. Given how much the game he loved so much on the links serves as the perfect metaphor to a vibrant life taken too soon.
Kirby hoped his mammoth drives were as straight as an arrow, much like how he had his fierce sense of fairness, justness and ethics in how he handled his personal and professional life running his restaurant and at one time, the club pro shop. That would be coupled with a sense of patience needed for slow play for perhaps those in front of him, including teaching his blushing bride Sherry the game from the ground up that they would enjoy many times over in future rounds.
Speaking of shots off the tee, Kirby's wit and sense of humour were as sharp as his 9-iron he used for his Hole in One on No. 6.
Perhaps Kirby would throw caution to the wind in his approach shot to the green with sand or water nearby. Gambling much like he did in his enjoyment of games of poker and VLTs. Even if those gambles proved costly on the scorecard of golf or life in the deep rough, Kirby persevered. Initial tough rounds in the game of love in previous divorces eventually led Kirby and Sherry to each other ten years ago. The two soulmates found each other and wed years later, finding the peace of sunny days with their extended families. That extended family included his work life, where employees became like kin in the patience, belief and encouragement he had in them, be it in the clubhouse, pro shop, or out on the course. Smiles and laughter were commonplace in the workplace.
You can see Kirby being generous with his gimme putts with friends, much like he was that day he got his Hole in One with men's league about to start, buying rounds in the clubhouse as is tradition. A generosity he showed every day, be it buying rounds for friends at the bar, sponsoring events with prizes through his 3 Under Par Restaurant, or even throwing a few bucks a local youth's way to help him compete at a junior national tournament in the United States. That generosity not only included out of pocketbook, but also in time in his community as well, coaching soccer, hockey and baseball numerous years.
Returning to the clubhouse to enjoy the euphoria of an excellent round, excellent food would soon be had with whoever had a relaxing meal at 3 Under Par Restaurant. While Kirby may have sometimes rubbed people the wrong way with his 'tell it like it is' outlook on life, no one ever questioned the rub he put on his legendary prime rib, or the way he cooked his steak sandwiches where word of watering mouth made its way around the community. Kirby and Sherry prided themselves on delivering quality food at reasonable prices so families could dine out. And if something wasn't right, they would strive to make it so in the dining experience.
There was a natural ease you had around Kirby where he always made you feel welcome whenever you crossed paths. Kirby is now resting easy knowing he was so loved and admired by so many locals as a lifelong Taberite.
Much like the Eagles he scored on No. 10, he can soar on their wings into the mountains where he loved camping, knowing his legacy of a life well lived is secured. A wife adored, a family loved and a life filled with so many people positively impacted by his presence.
We all wish his life would have gone the full 18, but every shot he took were memorable ones. While the golf course may be a little poorer with Kirby not on it anymore, hearts all over Taber are richer with his memories in them. Loved now and always.