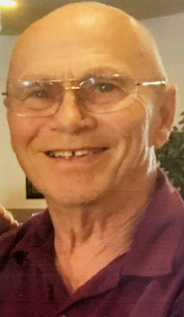 VIDEO TRIBUTE
Bob Neil
1937 - 2023
It is with great sadness that we announce the passing of our dear husband, father and grandfather Robert James Neil, beloved husband of Mabel Neil. Bob passed away peacefully in Taber on Saturday, September 9, 2023 at the age of 86 years.
The Funeral Service was held at the Evangelical Free Church, 214 - 4 Avenue West, Bow Island on Saturday, September 16, 2023 at 11:00 A.M.
Bob will be lovingly remembered by his wife of fifty nine years Mabel; son James (Roxane) Neil of Lethbridge and their children Jaden and Emilie; daughter Sandra Neil (Fred Voeller) of Burdett and her children Megan, Taylor and Eric. He is also survived by his sister Janet Neil; close family friends Wyatt (Kayla) Albush, Lynn Strom and her children Michael, Leanne, Lisa and Sarah along with many more family and friends.
He was predeceased by his grandson Cody Hole; parents John and Helen Neil; uncle Lorne James.
Bob was born in Lethbridge on May 10, 1937 and raised on the family ranch (Cumbrae ranch) south of Burdett. He met his wife to be Mabel in Bow Island, however Mabel was from Rolling Hills so Bob courted her by flying his supercub airplane to pick her up. They married on June 27, 1964. Together they had two children James "Jimmie" born December 11, 1964, followed by their daughter Sandra "Sandi" on March 27, 1969.
Bob spent his years farming and ranching on the Cumbrae ranch which was well known for their sheep and cleanest fleeces in Alberta. He loved to fly in his supercub plane and his all time favorite hobby was to build and fly model planes. Bob hosted a yearly international fun fly at the ranch for twenty five years. Fellow model plane enthusiasts spent the weekend flying, crashing, rebuilding and flying more planes. Bob also enjoyed a good ride out on his Aspencade motorcycle, with the wind in his face and sun on his back. No matter the weather or how busy life was, there was always Monday morning coffee at Ralph and Coba Buinings, where all the neighbors would gather to share the weekly events. More often than not, Bob and Ralph would sneak off to work on tractors together. The two had a brother like relationship and were very close friends. Bob was well know in his community for his "howdy doody" greetings, kind heart and big hugs. He will be greatly missed.