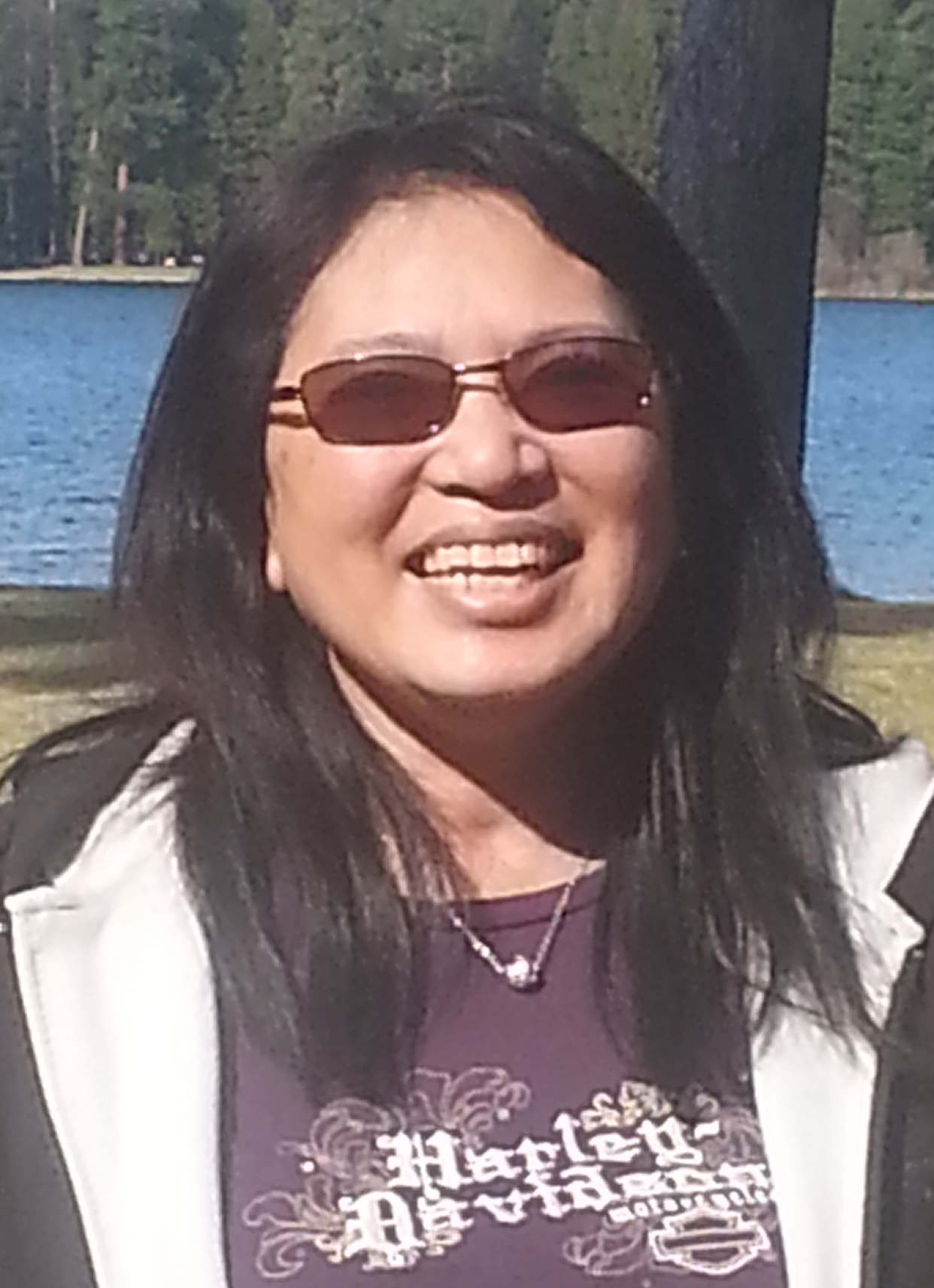 Brenda Tanner
1958 - 2020
Brenda Louise Tanner, beloved wife of Lester Tanner and beloved daughter of Shinako "Sheila" Higa, passed away in Taber on Saturday, September 12, 2020 at the age of 62 years.
Relatives and friends were invited to meet with the family at Southland Funeral Chapel, 5006 - 48 Avenue, Taber on Sunday, September 20, 2020 between 4:00 P.M. and 5:00 P.M.
The private funeral service was held at The Church of Jesus Christ of Latter-day Saints, Taber Stake Centre, 4709 - 50 Avenue, Taber on Monday, September 21, 2020 at 11:00 A.M.
A private burial service was held at the Taber Memorial Garden.
Left to mourn Brenda's passing are her husband Lester Tanner and their beloved cats Speedo and Buddy; her mother Shinako "Sheila" Higa of Taber; siblings Gary (Ester) Higa of Raymond, Donna (Ray) Journoud of Taber, Sharon (Arlon) Bauer of Cochrane and Randy Higa of Taber. She is also survived by Lester's siblings Phyllis (Dale) Evanson of Cardston, Jim (Becky) Tanner of St. George, Utah, Linda (Ron) Layton of Calgary, Karen (Dave) Armstrong of Olds, Don (Shawna) Tanner of Barnwell and Ken (Sheila) Tanner of Lethbridge as well as numerous nieces, nephews, aunts, uncles and cousins.
She was predeceased by her father Noriyasu "Nori" Higa; brother Leslie "Les" Higa; sister-in-law Danna Higa; father and mother-in-law Jim and Hazel Tanner.
Brenda was born on July 26, 1958, at the Taber Hospital to beloved parents Shinako "Sheila" and Noriyasu "Nori" Higa. The third child to come, after Leslie and Gary, Brenda was elder of her three younger siblings, Donna, Sharon and Randy.
Although Brenda was closest with her sister, Donna, she was quite thoughtful, caring and doted on her other siblings, always. Nary a family member can recall her ever being 'mean,' or creating any trouble.
Always a tight-knit family, the Higa's spent many family trips driving their station wagon out to British Columbia to visit relatives. All ten family members in tow, the six children would usually take advantage of not having to wear seat-belts, and laid down in the back.
Whether it was finding somewhere outside to play, making mud cookies with her brother and sisters, or going to Fort Macleod to take in the parade, fishing, and ice-fishing, trips with their dad, Brenda and her siblings made memories wherever they traveled.
Not far from Brenda's side, growing up, was Terrilyn Klics. Over the years Brenda and her sisters would make many memories together, including the time Brenda, Donna and Terrilyn convinced Sharon to climb a tree, and then ran away.
Brenda was always accepting of everyone, from friends of her brothers and sisters, to friends of her family, later in life. Her sincere, loving and graceful character had a way of making you fall in love with her, and that was before you even saw her beautiful smile. Her voice always supportive of all those near and dear to her. She just had a way of making everyone around her feel included, with her warm heart and bright, infectious smile.
It was this irresistible quality that would eventually lead to winning the heart of her true love, Lester Tanner, back in 1974. After a few brief conversations, Lester and Brenda were both guests at the same concert, in W.R. Myer's High School, a place where they shared their first, "KISS."
The earliest memories Lester has of Brenda are double dating with her, Terrilyn and Lester's friend, Terry Anderson. However, it was Brenda's sophomore year where their relationship truly blossomed.
Lester knew, even back then, Brenda was the one for him. Her loveable laugh, beautiful black hair and bright eyes had him hook, line and sinker. Destined to be together; connected by the same thought. Her gentle, helpful and devoted nature drew him in, and soon after high school, on April 14 of 1978, Lester and Brenda were married at the Taber Stake Centre.
One of Brenda's many talents was sewing, a gift that was exhibited especially on her wedding day, when she unveiled a beautiful, hand-sewn dress of her own creation.
Their first house was in Barnwell, across from the church. It was here where Brenda and Lester would acquire their first cat, Lemmy. They rented that house for a year before relocating to Taber, in 1979, where the happy couple purchased their first home, on 43rd Avenue. It was there that Brenda and Lester got their first dog, Charlie, who Brenda enjoyed taking for walks around their neighbourhood. In more recent years, while Lester was away working in Saskatchewan, hauling rig equipment, Brenda would go out and spend weekends visiting him. Brenda truly enjoyed spending that time with Lester, in the camper on his many journeys.
It was around 1984 the couple first started taking an interest in motorcycles. Lester had recently purchased a Yamaha Virago, which sparked an interest in going out to the local bike parties, where they met many good people. Shortly after, a dream of attending the Sturgis motorcycle party in South Dakota, was born. But first they needed a Harley, one Lester would acquire in 1993, a brand new Wide Glide. Although they had only frequented the provincial motorcycle scene, it was time to branch out and see what else the open road had to offer. In 1994 Brenda and Lester headed out on their first trip to Sturgis. They rode all the way down to South Dakota, stopping in motels along the way, before finally reaching their destination and spending the next four days camping. Brenda tremendously enjoyed their trips together.
Always a strong woman, who faced every challenge head-on, a smile on her face and a silver-lining in her heart, she would soon encounter her toughest challenge yet. Brenda was first diagnosed with cancer in 1997, but she never let that discourage her from fighting to beat the disease. She always maintained her positive attitude, no matter what was thrown at her. An astounding and arduous battle that would result in Brenda's family and friends gaining an extra twenty plus years to make memories with her.
Holidays and family time were always important to Brenda. Most holidays were spent with her brothers and sisters and their families, at her mother and father's house in Taber. On days with planned celebrations she would wake up early and drive over to her mother's, where she would make sure the turkey got in the oven, before starting work on the many different side dishes she enjoyed preparing for family gatherings. Everything from mashed potatoes, to cabbage rolls and her delicious potato salad - she just wanted her family to be together and be fed well. It was also a promise she made to her brother, Leslie, when he died - that the family continue to celebrate things, together.
A talented quilter, gardener, knitter and master crocheter, you'd be hard pressed to find a family member who didn't want one of her famous hand-made blankets, be it afghan or felt-tie. Brenda was also a wonderful baker, and was known for her many delicious treats she made for her family during the holidays. Chocolates at Christmas time, along with her infamous homemade caramel popcorn - and cookies for all occasions!
Known as someone who always took care of family, and always put others needs before herself, her sister Sharon remembers when she had surgery in 1999 and Brenda came to take care of her, and help her husband, Arlon, around the house.
Brenda had the most amazing personality, recalls her husband Lester. No matter what she always loved me and never tried to cut me down. She always spoke lovingly and positively to me - she was just full of unconditional love, that's who she was, she loves you 100 per cent. She had a way of just saying things the right way, so you always knew, it was out of love.
One of the most enjoyable trips Brenda and Lester took together, was one to Washington about five years ago. Lester's bike ended up breaking down unexpectedly, which threw some wrenches into their planning gears, but ended up turning into one of the best trips they'd ever taken. This was a result of Brenda's relentless positivity and urge to keep going, whether you knew things were going to work out or not - above all, she always kept a positive attitude and wanted to learn from everyday challenges.
Brenda had a love for life, itself. She lived life to the fullest every day and accepted all that life had to offer her. She loved spending time in the garden, where her and Lester would grow many vegetables over the years. She loved animals, especially her cats. Over the years Brenda and Lester have had seven cats and two dogs. The most recent two, being Speedo and Buddy.
S he loved her family and friends, spending time with her nieces and nephews and making many memories.
"She was an amazing woman. I can only try to be as wonderful as she was, in all ways," says Lester. "That's my goal in life, is to take her positivity, loyalty and love and stay on track. I just want to take everything she has taught me and do the same - be like her in any way that I can."
If friends so desire, memorial tributes in Brenda's name may be made directly to Harvest Haven, 83047 Range Road 20-5, Lethbridge County, Alberta T1J 5N7 www.harvesthaven.com.