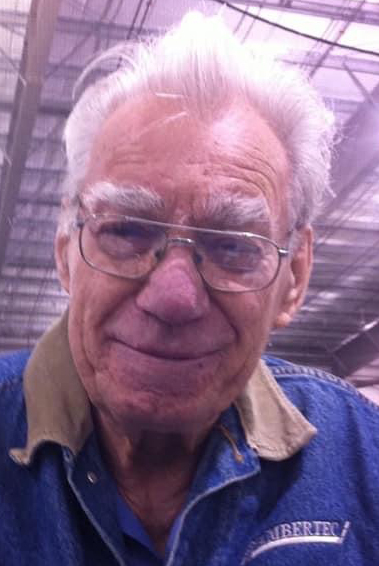 VIDEO TRIBUTE
Ted Jetten
1931 - 2021
Theodore Jetten, beloved husband of Josephine Jetten, passed away in Lethbridge on Monday, July 12, 2021 at the age of 90 years.
The celebration of Ted's life was held at the Lethbridge Soccer Centre (Servus Sports Centre), 2501 - 28 Avenue South, Lethbridge on Thursday, July 29, 2021 between 6:00 P.M. and 8:00 P.M.
Ted is lovingly remembered by his wife Jo "Josie, Josephine"; eldest son Dean (LeeAnne) Jetten of Lethbridge and their two sons Taylor (Tasya) and Braydon; son Rob (Kelly) Jetten of Lethbridge and Rob's children Nolan and Shaun; daughter Lisa (Bill) Halma of Lethbridge; youngest daughter Niki (Chris) McIntyre of Lethbridge and their son Xander.
Theodore Matheus Maria Jetten was born in Gennep, Holland on April 25, 1931. After spending time in the Dutch Merchant Marines, Ted decided to move to Canada initially meeting up with his brother Wim "Bill" in Montreal before travelling to Alberta. Ted held a few jobs before beginning his career in 1959 with Alberta Transportation. Ted retired in 1993. He worked throughout the province of Alberta and was involved in the building of many of the highways you have travelled in Alberta. Given Ted's social nature, it is fitting, that one of his most enduring legacies is the literal building of roads.
Ted met Josephine "Josie" through mutual friends in Regina, Saskatchewan and fell instantly in love. On their second date Ted asked Josie to marry him. Not surprisingly she said no, but Ted's persistence paid off. Approximately eighteen months later they were married in Foam Lake, Saskatchewan.
Ted had a unique upbringing. The family always appreciated it when Ted shared stories of his early years. He was the oldest of eight children - five brothers and two sisters. One of the most salient stories involved the hotel owned by Ted's parents. It was overtaken by the Nazis during World War II. Despite the danger Ted's father used his home and business to shelter individuals escaping persecution from the Nazis.
Ted, like his father, had a strong moral code. He believed it was his job to provide for his family. He made sure that we always had what we needed and most of what we wanted, sacrificing sleep and his own interests to do so. Nowhere was this more evident than in the hours he spent commuting for work. We did not get to see dad for much of our childhood. Working for Alberta Transportation during the 1960s to the early 90s meant dad was on the road a lot. Dad would leave early Monday morning – come home Wednesday night, where we would see him for a few hours, and then be gone Thursday morning before we got up for school returning home Friday evening. When Ted was home it was all about the family. During the summer Ted's family camped near where he was working. Which is one of the reasons summer is most everyone in the family's favorite season.
Ted had a lifelong love for soccer and took extreme pleasure in coaching Lisa and Niki for many years, and they reciprocated this feeling. Having played soccer in Holland, at a high-level, Ted was able to pass on his knowledge of the game to the girls he coached. He played and coached into his early 60s. Ted never played hockey but after coming to Canada, he soon developed a love for the game. The Ice Dolphins hockey team on which Dean and Rob both played on for many years, benefited from having the most dedicated fan for many years regardless of the time of day or night the games were being played (from us kids to you, Thanks dad). Ted's children and grandchildren share similar memories about the unwavering support provided by him and Jo. They were always the first to greet their children and grandchildren, as we skated off the ice, walked off the field or the court, lovingly providing words of encouragement. After every game, no matter the outcome Ted would be waiting, to place his arm around our shoulders, give us a gentle squeeze, and tell us "Great game". If it was an especially nasty game, he'd be the first to commiserate with how aggressive the other team was and how the official missed a call or two. Ted was always the biggest champion and fan. We are very grateful for Ted and Josie's attendance at all our sporting, school and classroom events.
Ted accomplished a lot in his life, yet, if you asked him, what he was most proud of he would say his grandchildren. His sense of wonder, pride and gratitude for Taylor, Braydon, Nolan, Shaun and Xander was infinite. When Ted was recovering in the hospital from delirium, and began his battle against/with vascular dementia four years ago, he told us to look after mom and each other. Ted was the consummate family man.
The creed by which he lived can be summed up as follows: Always arrive a good fifteen minutes early, that way if something unexpected happens, you will still be on time; Always stick up for your family, especially the younger/smaller ones; You can do anything if you study/practice; Math is easy - especially if you have graph paper and draw a picture of the problem; Finally [on the soccer pitch] never start it but always finish it.
Dad you provided us rules by which to live and you started a Jetten legacy, which we are proud to keep going. You were an incredible husband and father, a wonderful grandfather, and a fantastic coach, mentor and role model. Love your family.
If friends so desire, the family requests those who wish to express sympathy, consider making a donation in Ted's memory directly to the Alzheimer's Society, 40, 1202 - 2 Avenue South, Lethbridge, Alberta T1J 0E3 www.alzheimer.ca.
The family would like to express their deepest gratitude to the staff in cottage three of Good Samaritans, Park Meadows Village for the care provided to Ted. The care was always top notch even in the most challenging of times. Thank you for keeping our dad safe, and comfortable like he did for us growing up!