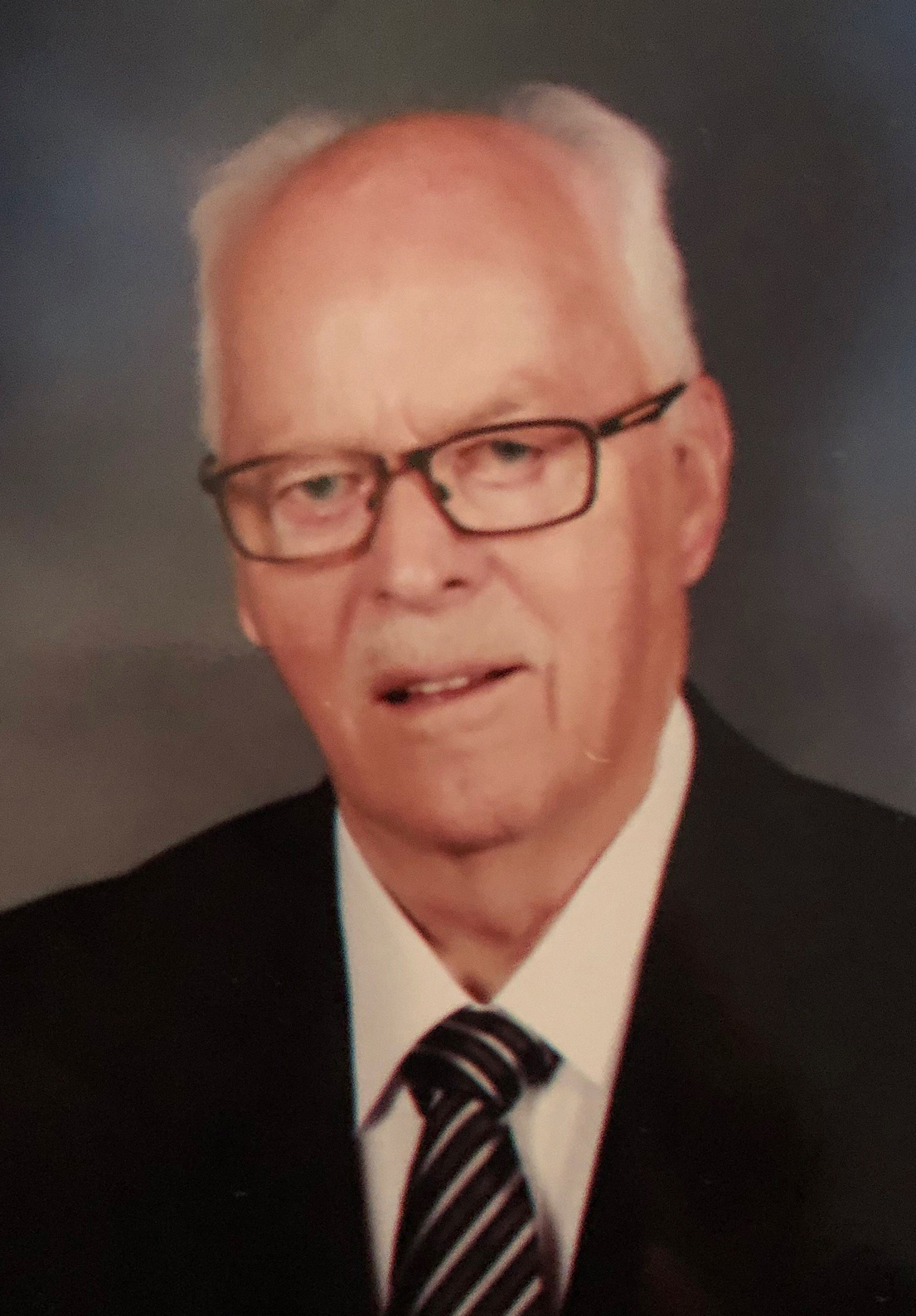 VIDEO TRIBUTE

SERVICE VIDEO RECORDING

Holger Just
1931 - 2022
It is with great sadness we share the passing of Holger Just in Taber on Saturday, February 5, 2022 at the age of 90 years. After a long and courageous battle with Parkinson's Disease, Holger passed away peacefully with his family at his side.
Holger is survived by his loving wife of 58 years, Ingelise "Lisa". Together they have four children Lone (Brian) Tuff of Calgary, Mogens (Shelly) Just of Lethbridge, Michael (Mila) Just of Macau, China and Kenneth (Kim) Just of Taber. He will be lovingly remembered by his eleven grandchildren Erik and Alecia Tuff, Brandyn and Chelsea Just, Sofiya and Nikolai Just, Amanda (Kuvar) Puri, Cole (Dionne) McCracken, Hunter (Brooke) Andrus, Theron Andrus and Riley Andrus. Holger will also be very missed by his great grandchildren Brigs and Collins McCracken, and Lachlan Puri.
Holger was born on October 10, 1931 in Hinge, Denmark. He married the love of his life, Lisa, on November 2, 1963 and they later moved to Canada on July 4, 1969. Holger was the oldest of five children. He had one brother and three sisters. From the age of twelve, Holger spent his early years working on the family farm, putting in long hours including working with a plough behind a team of horses. In 1959, Holger went on an exchange program for farmers. Through this program, he had the opportunity to move to the United States for a year and half. Holger worked in an agricultural research station in Illinois for the first year and then a dairy farm in California. He then returned to Denmark and purchased a farm of his own. Holger originally immigrated to Canada on a promise to manage a hog farm. Upon arrival to Lethbridge, however, he found the position had been misrepresented so he instead took a job at a mobile home factory. There he quickly found his calling as a carpenter and shortly after started his own construction company, Holger Just Construction Ltd.
Holger built many houses, townhouses and a number of large projects in Taber and neighboring communities. Some notable commercial projects he constructed include the Milliken Farm Supplies building, Ken McDonald Chevrolet dealership, Taber Agriplex, Barons Eureka Health Units in Taber and Warner, and Le Chateau. Holger and Lisa resettled many times in Taber, forever building and selling their homes, twenty one moves in the hectic thirty years before the turn of the century.
Holger served on the town council from 1983-1986, Taber Police Commission from 1986-1989 and he was a member of the Kiwanis
Service Club for several years. Holger built his last house at the age of eighty two years old. In retirement, he and Lisa enjoyed many adventures travelling the world together. One high point included spending his eightieth birthday enjoying the rich culture of Bangkok, Thailand. Holger and Lisa also walked along the Great Wall of China north of Beijing, visited Hong Kong and other parts of the Far East. A Panama cruise was the highlight of their travels along with other cruises in the Baltic Sea and the Mediterranean.
He and Lisa also spent many nights enjoying card games together as well as visiting with family and friends.
The Just family would like to extend a very sincere thank you to Dr. Torrie for his compassionate care over the course of Holger's Parkinson's Disease. We would also like to extend our gratitude and thanks to Berva Kesler and the staff of Taber Long Term Care for their exceptional care and kindness.
If friends so desire, memorial tributes in Holger's name may be made directly to the Taber and District Health Foundation (Long Term Care), 4326 - 50 Avenue, Taber, Alberta T1G 1N9 www.tdhf.ca.
Relatives and friends were invited to meet with the family at Southland Funeral Chapel, 5006 - 48 Avenue, Taber on Wednesday, February 9, 2022 between 7:00 P.M. and 8:00 P.M.
The funeral service was held at Southland Funeral Chapel, Taber on Thursday, February 10, 2022 at 3:00 P.M. Burial followed at the Taber Memorial Garden.
Relatives and friends were invited to meet with the family at the Royal Canadian Legion, 5205 – 48 Avenue, Taber on Thursday, February 10, 2022 between 4:30 P.M. and 6:30 P.M.