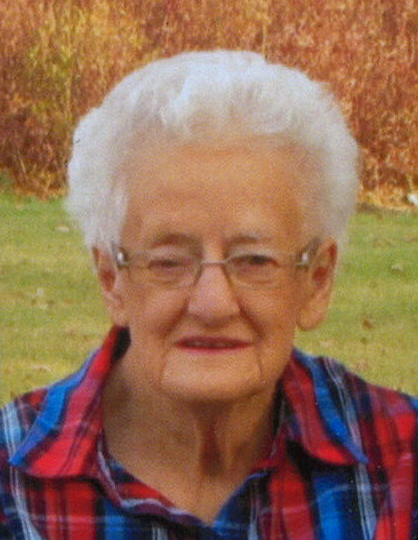 VIDEO TRIBUTE
Bertha Geremia
1929 - 2022
Bertha Geremia, beloved wife of the late Norman Geremia, passed away peacefully in Taber on Friday, May 27, 2022 at the age of 93 years. A beloved mother, grandmother and great grandmother.
A private burial service was held at the Vauxhall Cemetery prior to the funeral service.
The Funeral Service was held at Southland Funeral Chapel, 5006 - 48 Avenue, Taber on Wednesday, June 1, 2022 at 3:00 P.M.
Bertha is survived by her sons David (Fran) Geremia, Keith (Gen) Geremia and Edward Geremia all of Vauxhall; son-in-law Shane Thomas of Nanaimo, British Columbia; grandchildren Meghan (Tom), Mallory (Allison), Travis (Janae), Laine and Bryden (Taylor); great grandchildren Morgan and Brody as well as her extended family.
She was predeceased by her husband Norman, daughter Noreen Thomas and two older siblings Allan and Ken Tyrer.
Bertha Geremia (nee Tyrer) was born on April 11, 1929 to Emma and Edward Tyrer in Yorkshire, England. In 1930, Bertha, her mother and two older siblings embarked on a voyage to Canada (via the passenger ship - Duchess of Bedford), docking at the port in Quebec City. From there they then boarded a coal fired steam train to cross the country to their final destination, Lethbridge. Her father had made the journey prior and proceeded to secure employment in the mines. He had readied a home for his family in anticipation of their arrival. Bertha spent her youth as a miner's daughter. Living predominantly on the north side of the tracks, she proudly considered herself, "a north side girl". Bertha attended Galbraith School and after graduating, gained employment at Mid West Paper as a clerical staffer.
She married Norman Geremia on July 17, 1954 and they made their home on the family's homestead at Retlaw (At the confluence of the railroad line and the irrigation canal). She always stated, "the weather stopped and started at this juncture". Here they raised their family. She worked tirelessly in the home as well as on the farm.
Bertha gave the gift of time to her community through the CWL in Travers, and the Vauxhall Legion Ladies Auxiliary. She was proud to receive a life time membership from the Legion's Auxillary after over fifty years of service. Never seeking the limelight, she was content to do her part in the background, as long as the job was done to her standards.
Bertha always had words of encouragement for her family as she guided them through life. She was an independent soul with a competitive spirit, especially when an opportunity came for a game of cribbage or bowling. This led to her attaining success at the provincial level in both. She enjoyed travel, country music and dancing, as she wasn't one to sit idly by. Though nothing made her happier than visiting with those that she loved, with a cup of tea and a crumpet or two of course.
To have loved and be loved is a life well lived.
In lieu of flowers, please consider an act of kindness for a friend or stranger.
The family would like to thank the staff at the Clear View Lodge and Cottage One at Linden View for their compassionate care over the last few years.