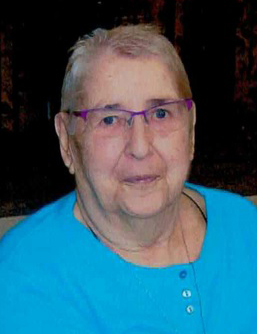 Audrey Orsten
1936 - 2023
Audrey Janette Orsten, beloved wife of the late Harold "Soonie" Orsten, passed away in Lethbridge surrounded by her loved ones on Friday, May 12, 2023 at the age of 86 years.
A private burial service was held at the Vauxhall Cemetery on Tuesday, May 23, 2023.
The service in celebration of Audrey's life was held at the Vauxhall Legion, 217 - 5 Street North, Vauxhall on Tuesday, May 23, 2023 at 1:00 P.M.
Audrey is survived by her sons Wayne (Rachel) of Airdrie, Lyle of Claresholm, Larry (Wendy) of Milk River and Rod (Buayai) of Calgary. GMA also leaves her five granddaughters who she loved more than anything in the world, Ashley (Tim), Andrea, Emily, Jennie (Brody) and Michelle. She is also survived by her brother Melvin Speager of Grand Prairie.
If Audrey wasn't helping one of her sons or the grandkids, she could be found helping someone else in the community. As a lifetime member of the Legion, she organized countless funeral lunches for families in the local area. Audrey was recognized by the town and provincial government for her volunteerism over the years. Six years ago, she moved to the Sunny South Lodge in Coaldale where she tried her best to ensure everyone received a birthday card to brighten their day.
In lieu of flowers, the family asks that you think of Audrey and do something nice for someone else.
A special thank you is extended to the incredible nursing staff at the Chinook Regional Hospital units 4B and 4C and to everyone at the Sunny South Lodge in Coaldale.