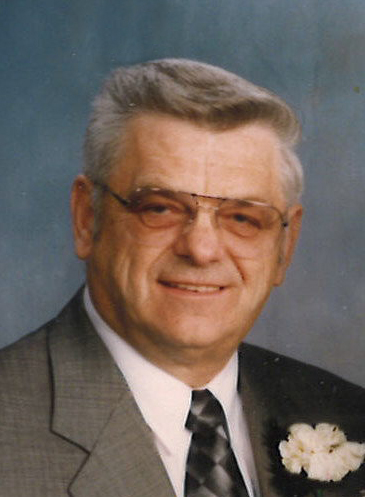 VIDEO TRIBUTE
Matt Perin
1938 - 2023
Matthew Perin, beloved husband of Rene Perin, passed away in Taber on Sunday, November 19, 2023 at the age of 84 years.
Relatives and friends were invited to Prayers at Southland Funeral Chapel, 5006 - 48 Avenue, Taber on Thursday, November 23, 2023 at 7:00 P.M.
The Funeral Mass was celebrated at St. Augustine's Catholic Church, 5009 - 48 Avenue, Taber on Friday, November 24, 2023 at 11:00 A.M. Burial followed at the Taber Memorial Garden.
Matt is survived by his wife Rene; son Mark (Renita) Perin of Taber and their children Megan Perin (Tyler Wilson), Karly Perin (Mike Weir) and Matthew Perin; daughter Sandra (Mike) Krchnak of Taber and their children Kara (Adam) Wright (their children Emerson, Leighton and Jameson; Kymberly (Kodi) Sparks (their children Amira, Aurora and Auto; Kolten Krchnak; son David Perin of Pincher Creek and his daughter Jessica; brother Joe (Shirley) Perin as well as numerous nieces, nephews, great nieces and nephews that Matt cherished.
He was predeceased by his daughters Carol Lynn Perin and Patricia Lynn Perin; parents Joseph and Dora Perin; brother George Perin; in-laws Ivy and Edward Sehn.
Matthew was born at home in Barnwell, the third son of Joseph and Dora Perin. His mother often talked about what a good baby he was, so happy all the time. Matt was great in school and loved going. Shortly after he graduated he met LaRene Sehn and very quickly they fell in love. They were joyfully married on August 5, 1959. Starting life together on the farm and having a family were Matt and Rene's first priority. They walked through many heartaches together, hand in hand and eventually they achieved their goal. Matt built a beautiful farm life for them and together they had three children, seven grandchildren and six great grandchildren. Matt's grandchildren and great grandchildren were the joy of his life and were his greatest happiness during his difficult final years. Matt was beloved by many and his memory will be lovingly carried forward by his family.
If friends so desire, memorial tributes in Matt's name may be made directly to the Chinook Regional Hospital Foundation (Hemodialysis Unit), 960 - 19 Street South, Lethbridge, Alberta T1J 1W5.