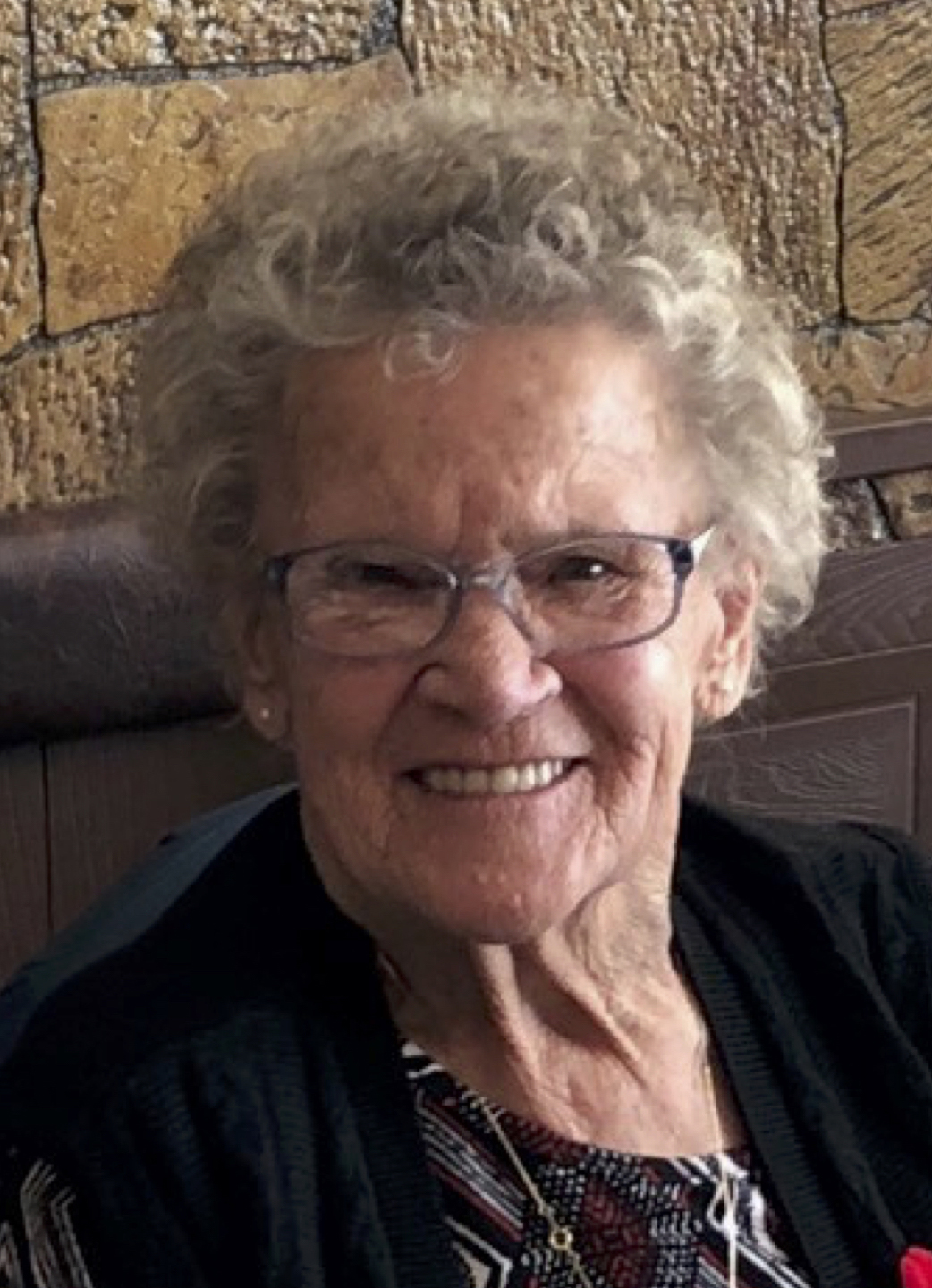 SERVICE VIDEO RECORDING

Helen Unruh
1928 - 2021
Helen Unruh, beloved wife of the late Abe Unruh, passed away in Taber on Sunday, January 3, 2021 at the age of 92 years.
A private burial service was held at the Vauxhall Mennonite Cemetery on Wednesday, January 13, 2021.
Helen is survived by her four children Terry (Coreen) Unruh of Pine Lake, Ramona Stauth of Calgary, Mark (Cathy) Unruh of Hays and LaWanda Unruh of Hays; six grandchildren and seven great grandchildren and many nieces and nephews.
She was predeceased by her parents Peter and Katharina Bueckert, brothers Isaac, Frank, Peter, Abram and Henry and sisters Susana, Katherina, Antoinette and Margaret.
Helen was born on November 9, 1928 near the town of Neuhorst, Saskatchewan. While she was still quite young, her parents moved the family to Swan Plain, Saskatchewan where she lived and worked until she turned eighteen. Helen then moved to Vauxhall where she met Abe while working as a cook and housekeeper for the manager of the Bow River Irrigation District. They were married on November 10, 1956 and initially settled in Hays on the Riverbank Ranch but later purchased and farmed the property where their son Mark now resides, until they retired to Taber in 1994. After Abe passed away in 2014, she moved to the Homestead Manor, then Clearview Lodge and finally Linden View.
Helen was the quintessential farmer's wife. She worked alongside Abe to make their farm a success while also cooking, baking, canning, gardening, keeping the household running smoothly and raising four children. Her small stature belied her strength and resilience. Helen loved her family above all else, especially her grandchildren and great grandchildren. She was happiest when she was surrounded by her entire family at annual gatherings like Easter, Thanksgiving and Christmas. Later in life, Helen became a devoted walker and it was a common sight to see her strolling around Taber on a daily basis. She also loved to watch game shows and curling on television and she loved to visit with friends and family. Whether it was the farm, the house in Taber, Homestead Manor or Clearview Lodge, everyone and anyone was welcome.
If friends so desire, memorial tributes in Helen's name may be made directly to the Heart and Stroke Foundation of Alberta, Box 2211, Lethbridge, Alberta T1J 4K7 www.heartandstroke.ca.
Helen's family would like to thank the staff at Linden View, Ed Collin from Home Care and Dr. Eric Leishman, who helped care for her during her last months at Linden View.