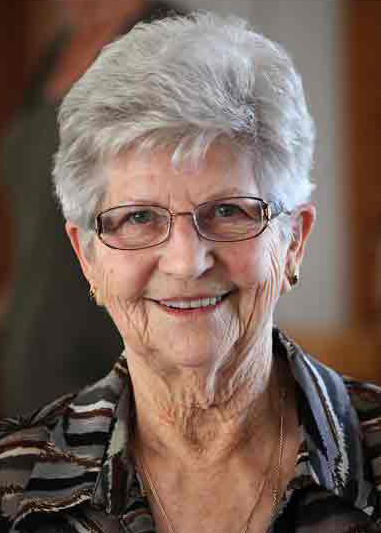 VIDEO TRIBUTE
Jean van Tryp
1932 - 2021
It is with grieving hearts that the family of Adriana (Jean) van Tryp announce her passing at the Bow Island Hospital on June 11, 2021, at the age of 89 years. Her family rejoices in a life well lived; one of love, joy and faith.
Jean was born to John Van Ham and Antonetta Nouws in Schijf, Holland on May 4, 1932; the eldest of nine children. In 1953, her family immigrated to Taber, Alberta where they purchased a family dry-cleaning business. One year later Jean's Dutch sweetheart, Paul, joined her in Canada where they wed and began their family sharing over 50 years together.
In 1957 Jean and Paul moved to Burdett where they farmed until their retirement in the mid-90s. Through these years she established her Avon business, volunteered in many community organizations including St. Michael's parish C.W.L., Burdett Ladies Auxiliary and the Golden Age Club. Even with eight children, Jean always somehow found time to support their activities. There was time for puzzles, cards and board games. She taught the importance of playing gracefully, win or lose. Her philosophy in games, as in all aspects of her life, was that a positive attitude and a grateful heart were essential.
Jean was an avid flower gardener and seamstress throughout her life and enjoyed sharing these hobbies with her children as they established homes of their own. She also had the gift of hospitality. All were welcome in her kitchen for Dutch pancakes, meatballs or a bowl of home-made soup. She was happiest when surrounded by family, loved all equally and unconditionally and had the ability to make everyone around her feel welcome and loved.
Jean blessed her family with the gift of faith. Her example of living life in community with faith, kindness and compassion lives on in all of them.
She is survived by her children Anieta (Rodger+) Kienzle of Bow Island and grandsons Jordan (Sarah) and Adam; Joanne (Rick) Adair of Grande Prairie and grandchildren Rebecca (Corey), Kierstyn (Mike) and Geoff (Amber); Lisette Simon (Art Laubenstein) of Burdett and grandson Justin (Sara) Weatherhead; Wilma (Gerald) Struys of Agassiz, British Columbia and grandchildren Ryan (Jocelyn), Sean+ (Miranda) and Courtney Claggett; Anna Marie (Warren) Bridge of Black Diamond and grandsons Kevin (Kaitlyn), Aaron (Jacky Nobert) and Tyler; Jack (Joanne) van Tryp of Burdett and granddaughter Olivia; John (Natalie) van Tryp of Burdett and grandchildren Adriana, Karsten and Anke-Marie; Paul (Nora) van Tryp of Bow Island and grandsons Everett and Aidan.
In addition, 20 great-grandchildren are fortunate to have had Jean as part of their lives. In later years they provided her with entertainment and great joy.
Jean is survived by her siblings Anne Vanden Broek, Frank (Ann) Van Ham, Lisa (Fritz) Braat and Adrian (Marlene) Van Ham.
She was predeceased by her loving husband Paul, sons-in-law Rodger Kienzle and Dale Weatherhead, grandson Sean Claggett, sister Mary Lieverse, brothers-in-law Adriaan Lieverse and Frank Vanden Broek, three siblings John, Petronella, and Cornelius who passed away in childhood, and parents John and Antonetta Van Ham.
Relatives and friends were invited to join the family in celebrating Jean's life at a prayer service at St. Michael's Catholic Church, 1113 - 1 Street East, Bow Island on Friday, July 2, 2021 at 7:00 P.M. and the Funeral Mass at the church on Saturday, July 3, 2021 at 11:00 A.M. Burial followed at the Burdett Cemetery.
Those who are not able to attend and wish to view online, may do so by clicking on the livestream link that will be available on this page fifteen minutes prior to Prayers and 15 minutes prior to Mass.
If friends so desire, memorial tributes in Jean's name may be made directly to the Pleasant View Lodge, Bag 6700, Bow Island, Alberta T0K 0G0. The family is forever grateful for the loving care and companionship she received in her years as a resident there.