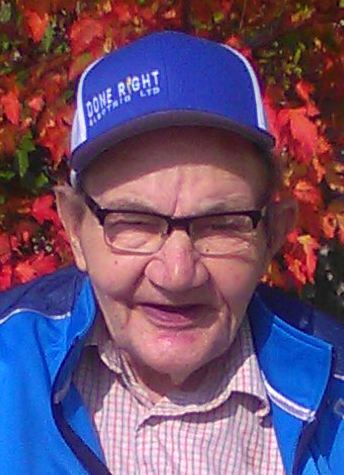 VIDEO TRIBUTE
Henry Vanden Brink
1931 - 2021
Hendrikus Vanden Brink, beloved husband of Rose Vanden Brink, passed away in Taber on Tuesday, August 31, 2021 at the age of 89 years.
Those who wished to pay their respects did so at the church prior to the funeral service on Tuesday, September 7, 2021 between 10:00 A.M. and 10:45 A.M.
The Funeral Service was held at the First Christian Reformed Church, 3902 Heritage Drive, Taber on Tuesday, September 7, 2021 at 11:00 A.M. A private burial service was held at the Taber Memorial Garden.
The livestream was recorded and is available for those who wish to view the service by visiting https://livestream.com/tabercrc/events/9835497.
Besides his loving and devoted wife Rose, Henry is survived by his sisters Meiny Veldhuizen and Hennie Bouwman, his brother Bill (Tami) Vanden Brink; and sister-in-law Mary Ann Vanden Brink. He is also survived by Rose's siblings Steve (Karen) Solic, Bill (Penny) Sekura and Linda Hirney (her family Brady and Brendan) and by numerous nieces and nephews and many friends.
He was predeceased by his father Willem (1994), mother Metje (1962), brothers John (2009), Hank (1975) and Tony (2013), brothers-in-law Evert and Ted and a niece Mayda.
Hendrikus, always known as Henry, was born on November 3, 1931 in Stoutenberg, Utrecht, The Netherlands to Willem and Metje Vanden Brink. He was the third born of seven children. He lived in The Netherlands until he and his brother John immigrated to Canada in 1954. He initially lived in Peace River with his uncle. In 1955 he moved to Picture Butte to join the rest of his family who had also just immigrated to Canada. Henry was always a hard worker and worked many different jobs in the farming and forestry sectors in those early years. In 1962, he moved with his father and younger brother Bill, north of Chin to work on the Perry farm. In 1969, they then moved to Taber and Henry lived in the same home for over forty years. He then began six years working for the Taber Gravel Pit, followed by thirteen years at the Taber Feed Mill and several seasonal years at Halma's Vegetable Farm.
Henry loved to play broomball on the Flames team every Friday night for at least three years. He also played men's soccer on Saturday evenings. He loved life and really lived it to the fullest. Henry was part of a coffee group that met every day at McDonald's, a group that socialized and celebrated all the special days of the year. This is where he met Rose Marsh, a lady who captured his attention and his heart. Rose completed him and after a while, he asked her to be his wife.
In the summer of 2011, Henry sold his home and moved into Clearview Lodge, where he began his next adventure. He liked not having to cook his own meals or do his own housecleaning. He actively took part in all activities and enjoyed getting to know the other residents.
On October 25, 2016, Henry began a new calling, that of becoming a husband to Rose. He was so proud and felt so blessed to have someone special to love. Henry and Rose spent every day together having fun, quietly enjoying their time alone and time with family and friends. Rose was his constant companion and the two were often called "The Love Birds". In the spring of 2018, Henry needed more care and so he moved to Linden View. He did not mind living there, although it was different from Clearview. Unfortunately, Henry's declining health and Covid began at the same time and life became a little harder. Rose loved and supported Henry through this difficult period, which was not easy but greatly appreciated. She was with him until the end.
Henry lived a simple life, but he was happy and content with what he had. A loving wife, good friends, family and a home where he was cared for and respected and a faith that sustained him.
If friends so desire, memorial tributes in Henry's name may be made directly to Diabetes Canada, Calgary and District Branch, 220, 6223 - 2 Street SE, Calgary, Alberta T2H 1J5 www.diabetes.ca.