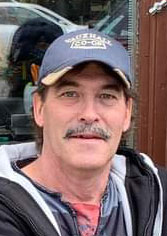 Paul Wynker
1965 - 2022
Paul John Wynker, passed away in Lethbridge on Thursday, April 28, 2022 at the age of 56 years.
A private burial service was held at the Vauxhall Cemetery on Monday, May 2, 2022.
Paul is survived by two beautiful daughters, Shelbe Wynker and Emily Wynker both of Edmonton, who he loved dearly and by his mother, Willy Wynker of Taber. He is also survived by his four siblings Virginia (Lain) Lovelace of Balgonie, Saskatchewan and their family Liam and Nicole; Michael (Sara) Wynker of Vauxhall and their family Derek, Becky (Dylan) and Taylor; Nancy Kress of Tulsa, Oklahoma; Patricia (Robert) Sklar of West Kelowna, British Columbia. He will also be remembered by other members of his extended family.
He was predeceased by his dad Simon Wynker.
Paul was born in Taber on June 24, 1965 to Peter and Willy Wynker. He attended the Vauxhall High School and shortly after began his twenty eight year career with Vauxhall Foods, working up to the position of Head of Maintenance. He was very well respected by his coworkers for his work ethic. Paul had to leave his position at the company due to health issues. This was a difficult time for him as he took great pride in his work.
Paul enjoyed mechanically restoring vehicles and selling them. His love of mechanics carried over into his work. He took great pride in solving problems and fixing the equipment at the plant. He was known for being a neat freak at work, in his home and all his vehicles reflect this as well . He liked things to be clean, neat and orderly.
Paul enjoyed camping. Waterton Lakes National Park was his favorite spot but he would also camp at local spots such as the Enchant park. He took his daughters with him as often as he could.
Paul was born into a Christian home and drew strength in his faith from watching 'good Christian TV'. He loved the Lord and knew that there was a place in heaven waiting just for him.
Paul had a kind heart, great sense of humor and a gentle nature. He will be dearly missed.
If friends so desire, memorial tributes in Paul's name may be made directly to the Taber and District Health Foundation, 4326 - 50 Avenue, Taber, Alberta T1G 1N9 www.tdhf.ca.
The family would like to convey their sincere gratitude to Dr. Sean Spence and the staff of the ICU at the Chinook Regional Hospital and also extend their heartfelt gratitude to "Sam" for being with Paul and the family, in the end.